Case summary compiled by Jody Ewing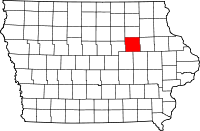 Black Hawk County in Iowa

Waterloo in Black Hawk County
Viola Marie Findley, a 28-year-old mother of three, left Waterloo, Iowa with a friend in the summer of 1983 to pay a visit to Ms. Findley's family in Florida. Findley's young children remained in Iowa, and in early September, Findley left her mother's home in Daytona Beach to head back to Waterloo.
She was never seen again.
Ten days later, when Findley still hadn't arrived in Iowa, family members in Florida were notified. Findley's mother contacted Daytona Beach authorities to report her missing daughter.
The National Missing and Unidentified Persons System (NamUs) database states Findley was last seen alive on September 6, 1983.
Twelve years after her disappearance, her mother had a Presumptive Death certificate issued. The police closed her file and put it into storage, where it eventually was destroyed by a flood in the records room.
According to a sibling, the Flagler County Sheriff's Office in Bunnell, Florida was looking into a Jane Doe found there in 1993. The sibling reported to NamUs that Cpl. Kim Davis — who'd told the family what happened to the missing records — was looking into the possibility that Jane Doe might be Viola Marie Findley.
NamUs collected DNA from Findley's son and daughter as well as Findley's sibling, and procured a DNA profile to see if a match could be made between Findley and Jane Doe.
According to the victim's sister, Betti Findley Schuster, Jane Doe was not a match, and the family is still unsure what states should be checked for unidentified remains because no one knows the location between Florida and Iowa where Viola disappeared.
Schuster said she'd learned Jane Doe wasn't a match after she'd called NamUs. She said she also called the Waterloo Police Department, who told her they had a police report from September 6, 1983 that her sister had filed, so believed the actual missing date may have been closer to October 1.
Viola Findley had brown shoulder-length hair, brown eyes, a bad nail on her pointer finger and a broken front tooth. She went by the nickname "Vi."
Her middle daughter, Vicky, was just three years old when her mother went missing. At age 15, Vicky died in a car accident. Findley's brother and mother have also since passed away.
Her sister lives on, Betti Schuster told Iowa Cold Cases in 2012, through her son and daughter and four grandchildren.
Fingerprint and DNA information for Viola Findley is entered into NamUs and assigned Case Number MP2914.

Information Needed
If you have any information regarding the unexplained disappearance of Viola Findley, please contact Investigator Kim Davis at (386) 586-4877 at the Flagler County Sheriff's Office in Bunnell, Florida.
You may also contact the Waterloo Police Department at (319) 291-4340 ext. 3 or Cedar Valley Crime Stoppers at 855-300-TIPS (8477). Tips may also be sent with TipSoft or by texting the word CEDAR plus the information to CRIMES (274637). Message and data rates may apply. Text STOP to opt out at any time. Text HELP for more information.
Anonymous tips may also be sent through the Cedar Valley Crime Stoppers Confidential Web Tip Information System.
Anyone with information may be eligible for a cash reward.
Sources:
Betti Findley Schuster, comment on Iowa Cold Cases' Facebook page, Sept. 2, 2015
Correspondence from Viola Findley's family members
Official Cold Case Investigations