UPDATE

Steven Kirchhoff's family has established a new Facebook page for him with hopes of gathering information that might lead to his recovery and justice for both Steven and his family. Visit Steven's Facebook page here.
Case Summary compiled by Jody Ewing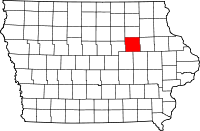 Black Hawk County in Iowa

Waterloo in Black Hawk County
Steven Kirchhoff, 22, was last seen at his Cedar Falls home on Tuesday, January 24, 1978, by his brother, Tommy Kirchhoff. Tommy reported that Steven was wearing a short burnt orange leather jacket, a blue sweater, dark blue corduroy pants, and brown shoes with the word GASS written on the soles.
When Tommy Kirchhoff did not see his brother for the next 12 days, he reported him missing to the Waterloo Police Department on February 5.
Officials believed Kirchhoff may have been involved in the sale of illegal drugs, and foul play has long been suspected in his disappearance. The state lists his case status as involuntary, a category used for people who are missing under circumstances believed to be an abduction.
Kirchhoff was described as being 5'11" tall, weighing 140 pounds, with brown hair and brown eyes.
Kirchhoff most recently had worked as a lineman for the Chicago Northwestern Railroad but had been laid off weeks before his disappearance. Nonetheless, Kirchhoff had just purchased a new house and appeared to be in good spirits.
Possible connections in case
In 2003, authorities acting on a tip began searching a rural 12-acre farmstead between Fairbank and Denver, Iowa, for evidence related to Kirchhoff's case.
The farmstead was once owned by a Waterloo man, Lonson "Lonnie" Luloff, who faced life in prison for federal methamphetamine and weapons charges in 1994 but was released in 2000 after cutting a deal with prosecutors.
Investigators at the time described Luloff as one of the biggest drug suppliers in the area, though they uncovered no signs of Kirchhoff when searching the farm ground.
Another missing Iowa man, Richard Forsyth, is believed to have been connected in some way to Kirchhoff's disappearance.
Press accounts at the time noted that Forsyth was seen carrying something from his apartment wrapped in a rug.
It is here where lines begin to blur of what reportedly happened.
Some say Forsyth allegedly paid cash for a Cadillac seven days after Kirchhoff vanished, and disappeared himself in 1979.
Others say Forsyth purchased the Cadillac immediately following Kirchhoff's disappearance but before his body was buried.
Kirchhoff's body, wrapped in the rug, allegedly was carried in the trunk of the Cadillac out to the farmstead where Luloff lived, removed from the trunk and taken inside the home, and then later returned to the Cadillac's trunk.
Once three individuals returned Kirchhoff's body to the Cadillac's trunk, they allegedly transported the body to a burial site on University Avenue in Waterloo.
It is also alleged Kirchhoff was killed by a neighboring law enforcement officer (not from either the Waterloo or Cedar Falls police departments), and that the three other men were then tasked with disposing of his body.
Published reports state the Kirchhoff family tracked Forsyth to his uncle's home in Arizona, but that Forsyth allegedly learned of the search and fled; there is no evidence to suggest Forsyth was still alive at the time.
Some reports stated Kirchhoff resided in Waterloo, Iowa, but Cedar Valley Crime Stoppers has said Kirchhoff actually lived in Cedar Falls. He was, however, reporting missing to the Waterloo Police Department.
Both men's cases remain unsolved.
Uncertainty haunts family
"As long as you're alive as a mom and dad, you're still hoping. You never really give up hope," said Marga Kirchhoff, Steven Kirchhoff's mother, in a Waterloo Courier article published Monday, April 30, 2001. "Well, I guess you're hoping for a miracle is what you're hoping for."
Fingerprints and dental records are on file and available in Steven Kirchhoff's case; he had several fillings in his teeth and also had other dental work done.
Kirchhoff's parents have no illusions their son is still alive.
"We know that if Steve were alive, he would have contacted us," Marga Kirchhoff told the Courier. "If he were alive and knew who he was, he would have contacted us."
Although Marga Kirchhoff and her husband, Clarence, continue to hope their lost son is still alive, they've already added his name to the headstone that will mark their own graves.
"That was a hard thing to do," Marga said. "One of the reasons we did it was so we at least have Steve's name some place. If we never get to bury him, it would be like he never lived."
Marga said she'd felt relief for another family when Tracy Ann Carson, 39, was laid to rest in late April 2001, more than six months after Tracy disappeared from a La Porte Road tavern. Tracy's body had been found in Crane Lake on Wednesday, April 23, the victim of a homicide.
"I guess it's bad when you consider somebody lucky when they find their dead child," Marga Kirchhoff told the Courier. "It always comes to my mind how lucky they are. Well, I know they're not lucky because their child is dead."
Information Needed
If you have any information concerning Steven Kirchhoff's unsolved disappearance and suspected homicide, please contact the Waterloo Police Department at 319-291-4340 ext. 3 or Cedar Valley Crime Stoppers at 1-855-300-TIPS (8477). There is a reward for information leading to an arrest and conviction in this case.
You may also submit tips anonymously through the Cedar Valley Crime Stoppers Confidential Web Tip Information System.
Sources:
Anonymous tips provided to Iowa Cold Cases (ongoing); on file and available to the investigating agencies
"Memorial Ride and Drive to highlight other missing, unsolved," by Jeff Reinitz, The Waterloo-Cedar Falls Courier, July 12, 2018
"Uncertainty haunts local families with missing loved ones," by Jeff Reinitz, Waterloo Courier Staff Writer, Monday, April 30, 2001
North American Missing Persons Network — Steven Dick Kirchhoff