Case summary compiled by Jody Ewing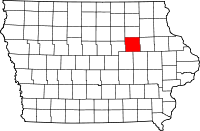 Black Hawk County in Iowa

Waterloo in Black Hawk County
Richard N. Forsyth, 41, was reported missing to the Waterloo Police Department on January 13, 1994.
Forsyth first disappeared around the same time another Waterloo man, 22-year-old Steven Kirchhoff, vanished January 24, 1978. One report stated Forsyth was last seen leaving his Waterloo apartment October 18, 1979, carrying something wrapped in a rug.
According to a Waterloo Cedar Falls Courier article published April 30, 2001, the Kirchhoff family tracked Forsyth to an uncle's home in Arizona, but Forsyth allegedly got wind of the search from police and fled, Steven Kirchhoff's mother Marga Kirchhoff told the Courier.
Forsyth paid cash for a Cadillac shortly before Kirchhoff disappeared.
Today, both Forsyth and Kirchhoff remain missing persons cases.
Forsyth's fingerprint information has been entered and is available at the Waterloo Police Department.
Nothing has been uncovered to officially link the two cases.
Information Needed
If you have any information about Richard Forsyth's unsolved disappearance, please contact Sgt. Michael Rasmussen at the Waterloo Police Department at 319-291-4339 or Cedar Valley Crime Stoppers at 1-855-300-TIPS (8477). There may be a reward for information leading to an arrest and conviction in this case.
Anonymous tips may also be sent through the Cedar Valley Crime Stoppers Confidential Web Tip Information System.
Sources: