Mikaela Bond Hill, a 22-year-old mother of three young children, was shot early on Saturday, June 3, 2017, in her Waterloo home.
Police said someone fired into the bedroom window of Mikaela Bond Hill's rented Hope Avenue home in the early morning hours of June 3. Bond's boyfriend and her three children were in the house, but she was the only one hit by the gunfire.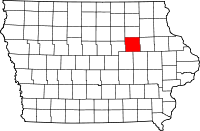 Black Hawk County in Iowa

Waterloo in Black Hawk County
One of the bullets struck her head. Two other rounds passed over her and struck a wall behind. Bond, 22, was pronounced dead a short time later at UnityPoint Health-Allen Hospital.
Outside the window, police found spent shell casings in the grass next to a toy lawn mower. Evidence was collected and sent for testing, but no arrests have been made.
According to published reports and the Waterloo Police Department, crews were dispatched to the 717 Hope Avenue home shortly before 3 a.m.
Police said Mikaela Bond, also known as Mikaela Hill, was taken to UnityPoint Health-Allen Hospital's emergency room, where she died shortly after.
Waterloo Police Investigator Brice Lippert submitted the case for inclusion on the Iowa Cold Cases website on February 18, 2018.
Information Needed
Cedar Valley Crime Stoppers is offering a reward for information leading to an arrest.
Anyone with information on Bond's death or on other homicides is asked to call the Waterloo Police Department at (319) 291-4340 ext 7 or Cedar Valley Crime Stoppers at 855-300-TIPS (8477). Tips may also be left at www.cvcrimestop.com or sent with TipSoft or by texting the word CEDAR plus the information to CRIMES (274637).
About Mikaela Jordan Bond Hill
Mikaela Jordan Bond, 22, of Waterloo, Iowa, died at her home on Saturday, June 3, 2017 from a homicide.
She was born August 10, 1994 in Waterloo, the daughter of Kara Bond and Ray S. Hill. She attended East High School and was currently at Hawkeye Community College working to obtain her GED.
Family described Mikaela as phenomenal with kids and said she enjoyed working at Tywoana's daycare.
Mikaela is survived by her children: two sons, Khamiere Young and Jarai Caldwell and a daughter, Kiyari Young; her mother, Kara Bond, father, Ray S. Hill, stepmother, Tywoana Franklin, five sisters: Kyra Bond, Myca Bond, Raytisha Hill, Shay Hill and Sa‑lay Reed, brother, Isaias Hill, 4 stepbrothers: Ricardo Wright, Shakur Winfield, Takhari Franklin, and Pharoah Gantt; two stepsisters: Michelle Dollen and Vonjaya Mitchell; Johnny Caldwell, father of Jarai; and Will Young, father of Khamiere and Kiyari.
She is preceded in death by her paternal grandfather, Robert Hill and maternal grandfather, Richard Bond.
A gathering of friends and family was held from 1 to 2 p.m. Tuesday, June 13, 2017, in the Mausoleum at the Garden of Memories Cemetery.
Sources:
"Memorial Ride and Drive to highlight other missing, unsolved," by Jeff Reinitz, The Waterloo-Cedar Falls Courier, wcfcourier.com, July 12, 2018
Brice Lippert, Investigator, Waterloo Police Department, February 18, 2018
"Waterloo father demands justice for daughter's murder 7 months after being shot," by Lauren Moss, KWWL.com, January 10, 2018
"Waterloo dad seeks justice following daughter's death," by Jeff Reinitz, The Waterloo-Cedar Falls Courier, January 5, 2018
"Waterloo rallies following mother's mother," by Pat Kinney, The Waterloo-Cedar Falls Courier, June 14, 2017
"Obituaries: Mikaela Bond Hill (1994-2017)," The Waterloo-Cedar Falls Courier, June 13, 2017
"Mikaela Bond Hill, age 22," gunmemorial.org
"Murder victim's family speaks for first time," by Jessica Hartman, KWWL.com, June 13, 2017
"No arrests made in mother of three's murder," by Taylor Bailey, KWWL.com, Monday, June 5, 2017
"UPDATE WITH NAME: One dead in overnight shooting," by Jeff Reinitz, wcfcourier.com, Sunday, June 4, 2017
"Mother of three dies in shooting," KWWL.com, Saturday, June 3, 2017
"Waterloo woman with children shot in her home," by O. Kay Henderson, RadioIowa.com, June 4, 2017
"Obituaries: Mikaela Jordan Bond," lockefuneralhome.com, June 3, 2017