Marquavion D. Brown, 19, was shot to death in Waterloo, Iowa, on Saturday, Nov. 23, 2019, while sitting in a car with a friend.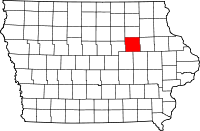 Black Hawk County in Iowa

Waterloo in Black Hawk County
Also injured in the shooting was 21-year-old Quintorey Farshawn D'Quan Kemp, who, along with Brown, was transported to UnityPoint-Allen Hospital, where Brown was pronounced dead. Kemp was then transferred to University of Iowa Hospitals and Clinics in Iowa City for further treatment.
According to Waterloo police, the two were seated in a car parked in an alley behind apartments in the 200 block of Madison Street around 5:55 p.m. Saturday when an assailant on foot opened fire on the vehicle.
Waterloo Police officers were called to the scene near 265 Madison St. just before 6 p.m. Dozens of police cars and several ambulance vehicles lined the streets of Madison Street and Independence Avenue, the Waterloo-Cedar Falls Courier reported on Nov. 23, 2019.
Lt. Robert Duncan confirmed two people had been shot.
Several vehicles in one of the complex's parking lots on Madison Street were surrounded by police tape. One of the vehicles was a four-door car with a shattered rear passenger window. Investigators were still on the scene as of 9 p.m., The Courier reported in the Nov. 23 story.
Police described a chaotic scene later when a group gathered at UnityPoint Health-Allen Hospital after the shooting were frightened by what many feared were gunshots.
Officers at the scene later said the commotion was probably caused by a speeding car hitting a curb, The Courier also reported.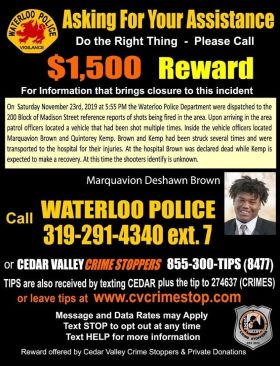 Police continued to investigate the Saturday night shooting. Shortly after the incident, officers with the police department's Violent Crime Apprehension Team executed a search warrant at an apartment on Madison Street.
The Courier indicated Brown had been the victim of gunfire in the past. He was shot in the leg and arm during an incident on Argyle Street in late October 2018. And in December 2018, he was a passenger in a car that was hit by bullets in the 1100 block of Nevada Street, but he escaped injury, the Courier reported.
No arrests have been made in Brown's slaying, and there is a reward for information leading to the arrest of the person or persons responsible for his death.
Anyone with information is encouraged to contact the Waterloo Police Department or Cedar Valley Crime Stoppers.
Though Brown's murder remains unsolved, overall crime in Waterloo was lower in 2019 than in previous years.
The following story was published in The Courier on Jan. 18, 2020.
By Jeff Reinitz, wcfcourier.com

WATERLOO – Overall crime in Waterloo was down in 2019, according to numbers released by the city's police department Friday.

"Reductions in the crime rate are a citywide accomplishment. We would like to thank all of you who assisted us in our efforts. This includes our federal, state and local law enforcement partners, other city departments and employees, community service agencies, the Waterloo faith community, Waterloo advocate agencies and many others," said Major Joe Leibold with the Waterloo Police Department.

The total number of index crimes — murder, robbery, rape, aggravated assault, burglary, larceny and auto theft — were at a five-year low at 1,859 in 2019, down from 2,728 in 2014.

Murder dropped from six cases — with a total of seven deaths — in 2019 to two last year. Micalla Rettinger, 25, was struck by a single bullet while driving on U.S. Highway 218 on April 28. Then on Nov. 23, 19-year-old Marquavion Deshawn Brown was sitting in a parked car on Madison Street when someone opened fire, killing him.

Both deaths remain unsolved.

Rape dropped from 18 in 2018 to 11 in 2019, and robbery fell from 57 holdups to 42.

Aggravated assault was up, with 252 reported in 2019 compared with 236 in 2018, according to the police department numbers. This was still considerably lower than 2014's high of 443.

Burglary was also up, with 568 break-ins in 2019 from 540 the year before.

Larceny — also called theft — and auto theft also were down.

Waterloo police responded to slightly more calls in 2019, logging 50,542 compared with 50,203 the year before.

Five people died in automobile collisions in 2019, which was up from three deaths a year earlier. Accidents with injuries were also up.

~ The Waterloo-Cedar Falls Courier, Jan. 18, 2020
Information Needed
Anyone with information is encouraged to contact the Waterloo Police Department at (319) 291-4340 ext. 7 or or Cedar Valley Crime Stoppers at 855-300-TIPS (8477). Tips are also received by texting CEDAR plus the tip to 274637 (CRIMES). You may also leave tips at www.cvcrimestop.com.
A $1,500 reward is being offered for information leading to an arrest in Marquavion Brown's unsolved murder.
Sources:
Investigator Brice Lippert, Waterloo Police Department, April 16, 2020
"Crime was down in Waterloo in 2019, call volume up slightly," by Jeff Reinitz, wcfcourier.com, January 18, 2020
"11-25-19 Madison Street Shooting," Press release by the Waterloo Police Department
"Victims identified in fatal weekend shooting in Waterloo," by Jeff Reinitz, wcfcourier.com, November 25, 2019
"UPDATE: Names of victims released in Saturday Waterloo shooting," by Leslie Stone, KWWL.com, November 25, 2019
"Shooting in the 200 block of Madison," Waterloo Police Department press release, updated 11-24-19
"Two people shot near apartment complex on Madison Street in Waterloo," by Kristin Guess, wcfcourier.com, November 23, 2019
"Home, vehicles shot in separate shootings in Waterloo," by Amie Rivers, wcfcourier.com, December 26, 2018
"Teen shot in Argyle Street shooting Tuesday night," by Amie Rivers, wcfcourier.com, October 31, 2018