Cedar Valley Crime Stoppers announced on Tuesday, July 30, 2019, a new $50,000 reward for information leading to an arrest in the case.
Case Summary / Timeline compiled by Jody Ewing
Lyric R. Cook, 10, and her cousin, Elizabeth Collins, 8, were reported missing to the Evansdale Police Department in Evansdale, Iowa, on Friday, July 13, 2012.
The girls were seen at about 12:23 p.m. July 13 on Brovan Boulevard in Evansdale, and then spotted between 12:30 and 1 p.m. on Gilbert Drive not far from Meyers Lake, a popular fishing and recreation area in the northeastern Iowa city of about 4,700 residents.
Their bikes and Elizabeth's purse were later found on a trail on the southeast corner of Meyers Lake about 4 p.m. the same day the girls went missing, but there were no clues as to their whereabouts.
The girls' grandmother, Wylma Cook, told the press she last saw the girls riding their bikes near downtown Evansdale about 12:15 p.m. July 13.
On Wednesday, December 5, 2012, hunters came across two deceased bodies in the Seven Bridges Wildlife Park near Readlyn in Bremer County — a wildlife area about 25 miles from where the girls were last seen. They contacted law enforcement officials at 12:45 p.m.
On Thursday, December 6, 2012, Chief Deputy Rick Abben with the Black Hawk County Sheriff's Office held a press conference to announce officials were confident the bodies were those of Lyric and Elizabeth.
Abben said there were no other missing persons cases and the remains found were of a smaller stature.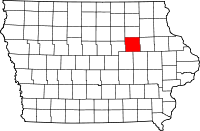 Black Hawk County in Iowa

Evansdale in Black Hawk County
The bodies were transported to the State Medical Examiner's Office in Ankeny for positive identification.
Medical Examiner Confirms: Bodies Found are Missing Evansdale Girls
On Monday afternoon, December 10, 2012, the Iowa State Medical Examiner's Office confirmed the bodies found on Wednesday were those of Lyric Cook and Elizabeth Collins.
Chief Kent Smock of the Evansdale Police Department received confirmation Monday, according to a Black Hawk County Sheriff's Office press release.
Smock notified the families.
No other information was released to police other than the confirmation, Abben said.
Troubled History for One Girl's Parents
According to a Cedar Rapids Gazette article published July 25, 2012, Dan Morrissey, 36, was scheduled to appear Friday in Black Hawk County court in Waterloo for a pretrial conference covering four separate cases, including one where he was charged with assaulting his estranged wife, Misty Morrissey, the mother of 10-year-old Lyric Cook.
The Gazette said other cases against Dan Morrissey charge him with possessing, dealing and making methamphetamine, and a range of other drug charges that could lock him up for decades if convicted.
The Gazette also reported that investigators were closely scrutinizing Dan and Misty Morrissey and had subjected both of them to multiple polygraph tests. At the same time, investigators said Dan and Misty were not considered suspects in the girls' disappearance, and were looking into their backgrounds and that of their associates only so as not to discount any possible leads.
"Just Broken"
Community members held a candlelight vigil Wednesday night at Meyers Lake at the same spot where they'd set up a makeshift memorial after the girls disappeared in July. The news that the bodies had been found hit them hard.
"Just broken. I think a lot of people are," family friend Sarah Curl told WHO-TV's Aaron Brilbeck. "We've all held out pretty strong that there's going to be a positive outcome."
Curl said the community did everything they could to help raise awareness and bring the girls home.
Hundreds of volunteers had helped search for the cousins, and the lake near where their bicycles were found had been partially drained.
The girls' families asked for privacy.
Funeral services for Lyric Cook were held at 2 p.m. Dec. 29 at the Heartland Vineyard Church Cedar Falls.
Memorial services for Elizabeth Collins were held December 13.
On Friday, January 25, 2013, State Senator Kent Sorenson, R-Milo, championed the idea of reintroducing the death penalty in Iowa. Elizabeth Collins' parents joined Sorenson and parents of other missing and murdered children at the Capitol for a news conference where the senator outlined five pieces of legislation he planned to introduce during the current session.
"Trail of Angels"
On February 6, 2013, officials announced that the trail and park at Meyers Lake would be renamed to honor the memory of Lyric and Elizabeth. The trail that runs around the lake is now known as the "Trail of Angels." The park sitting next to the lake will be known as "Angels' Park."
"There is a lot of memorials around the lake and throughout the bike trail in Evansdale," Jeff Dawson, Chairman of the Evansdale Parks Department told KCRG in a story that aired February 5, 2013. "We thought if you're riding your bike or walking, it's a nice way to memorialize people that you don't want to forget."
Volunteers thought up the project and put it together through fundraising. According to KCRG, the group hopes to continue raising money to add a few more memorials and additions to the park like a roadway from the land to the island, a gazebo, and possibly a bronze statue.
The city also declared July 13 as "Lyric and Elizabeth Day."
New Tip in Case Provides Hope
Six months after Lyric and Elizabeth were found, authorities announced on Monday, June 24, 2013, they had three separate witnesses who said they saw a white, older-model, full-size SUV-type vehicle — similar to a Chevy Suburban or a Ford Bronco — parked on Arbutus Avenue on July 13. The street meets up with the bike trail where the girls' bikes were found.
Two witnesses said they'd seen the white SUV parked between two bike trail signs. According to KWWL Channel 7, the other witness told police they saw the vehicle parked near the woods on the east side of the lake — only a few hundred feet from where the bikes were found.
All three witnesses said they'd seen the SUV sometime between 11:30 a.m. and 12:30 p.m. on July 13, 2012, the same day and approximate time period when the girls went missing, WHOTV Channel 13 reported on June 24, 2012.
"There (are) just a lot of reports, a lot of information to read through," said Mike Roehrkasse with the Iowa Division of Criminal Investigation in both the WHOTV and KWWL reports. "Now that there's a little bit of a lull, we are able to start poring through those reports and make those connections."
Witnessed described the vehicle as "a large and clunky white SUV" and "an old-style boxy suburban."
Though two of the witnesses came forward the information while canvassing, the third came several months later because the person assumed someone had already told police about it.
"The one that kind of got the ball rolling was actually several months later. They didn't know if it would be important and that's kind of what we want to stress to the public is any piece of information can be important," Roehrkasse said.
DCI Confident Michael Klunder no longer person of interest
State investigators conducted a painstaking examination of potential similarities between the kidnapping and murder of Dayton teenager Kathlynn Shepard and missing person cases in Iowa, and in June 2013 a state official announced that potential connections were already being analyzed between Shepard's murder and the Cook and Collins slayings.
"Thankfully, we know for every county, every city, what unsolved missing persons cases they have," said Gerard Meyers, assistant director of field operations of the Iowa Division of Criminal Investigation in a USA Today story published June 10, 2013. "We'll want to look and see if there are any attributes from those cases that are at all consistent with this case."
Shepard, 15, and another girl were kidnapped from Dayton on May 20 while walking home after school. Authorities say Michael James Klunder, 42, took the girls to a hog confinement lot where he worked and zip-tied their hands. The other girl managed to escape when Klunder took Shepard to another part of the property, police say. Fishermen found Shepard's body Friday night, June 7, 2013, in the Des Moines River about 15 to 20 miles downriver from where it runs along Dayton's east side.
According to the USA Today story, Meyers said authorities were taking a two-pronged approach to any comparisons: laboratory analysis of forensic evidence, and investigative work that could pinpoint, among other things, where Klunder may have been when other people went missing. Klunder served about two decades in prison, from 1992 to 2011, for previous kidnapping and assault charges.
On May 14, 2014, DCI Special Agent Mike Roehrkasse with the Iowa Division of Criminal Investigation said the DCI is pretty confident Michael Klunder is no longer a person of interest in the [Cook/Collins] case.
"We're coming for you"
Also in May 2014, Drew Collins and Waterloo Director of Safety Services Dan Trelka traveled to Utica, New York, to participate in the Ride for Missing and Exploited Children.
Hundreds of cyclists rode the nearly 100-mile route in two-by-two formation showing solidarity for those they've lost, KWWL.com reported on May 16, 2014.
"They always have to be remembered," Trelka said. "That's one of the reasons we've involved, to remember these kids."
The remembrance came with a message for the killer of the Black Hawk County girls.
"We're coming for you," Trelka said. "We're going to find you, and we're going to come get you."
According to a July 11, 2014 report by KWWL's Bob Waters, the reward for information leading to an arrest and conviction in the case had reached $170,000.
On Thursday, August 21, 2014, Evansdale police unveiled a new web page — http://evansdalepolice.org/latestonlyricandelizabeth.php — to act as a clearinghouse for information on the unsolved case.
During a press conference that day, police said they believed the person who abducted the cousins was likely local, the Waterloo Cedar Falls Courier reported Aug. 22, 2014. The FBI's Behavioral Analysis Unit, which develops profiles of suspects, had released new details drawn from the FBI study and unveiled those conclusions on the Evansdale police web page for Lyric and Elizabeth, the Courier said.
The offender profile concluded, in part, that:
The offender is familiar with both Meyers Lake/Angels Park in Evansdale and Seven Bridges Wildlife Area in Bremer County;
The suspect chose Seven Bridges because he or she was familiar with the area and knew it was secluded;
The offender blends in with and may be part of the Evansdale, Bremer and surrounding communities;
The suspect likely used "quiet coercion" to gain the girls' compliance into leaving Meyers Lake, using a ruse or threats of violence, and that other possible characteristics include:
The suspect may have been experiencing stress related to legal troubles, spousal problems, employment difficulties, financial strain or mental health issues in July 2012;
The suspect may avoid discussing the case or showing interest in the matter but is likely following developments in the media;
The offender may have attempted to abduct children or adults in the past;
Following the disappearance, the suspect may have altered his or her physical appearance, such as changing hair style and facial hair. The offender's vehicle may also have been altered with a new paint job or re-upholstery.
Analysts' experience with prior abduction cases points to one person being involved, but there are cases where more than one person was involved, The Courier said.
Of the $170,500 reward, officials said $150,000 was raised privately and by the FBI for information leading to an arrest and conviction in the case. Additionally, Cedar Valley Crime Stoppers offered a $20,500 reward for anyone coming forward with information that simply leads to an arrest.
Those with information were encouraged to call the Evansdale police tip line at 232-6682 or Cedar Valley Crime Stoppers at (855) 300-8477.
Investigators focus on Seven Bridges Wildlife Area
In a press conference held at the Evansdale City Hall on Tuesday, Feb. 3, 2015, Evansdale Chief of Police Kent Smock said authorities were focusing their efforts on anyone who might be familiar with the remote Bremer County woodland where Lyric and Elizabeth were found in December 2012.
Smock made a plea to the public to identify anyone they believe is familiar with the Seven Bridges Wildlife Area.
"I think you will all agree with me that Seven Bridges is extremely remote," Smock said. "We have no doubt that the person or persons responsible with this crime are very familiar with Seven Bridges."
Investigators traveled to the National Center for Missing and Exploited Children in Virginia to discuss the case, and Smock said federal authorities were impressed with the investigators' efforts thus far. They were also in agreement that Seven Bridges Wildlife Area represented an important part of the case, The Gazette reported Feb. 3, 2015.
Smock said they want to speak with anyone who is familiar with the wildlife area — which was formerly a Bremer County park and a popular gathering place — in order to eliminate them as suspects.
Smock was fired from his position as Evansdale chief of police on Tuesday, April 14, 2015.
In a Waterloo-Cedar Falls Courier story published July 26, 2015, interim Evansdale Police Chief Jeff Jensen said the Evansdale cousins case was never to be considered a 'cold case.'
WHO-TV reported Feb. 5, 2016, that investigators were still fielding tips in the 'Evansdale Cousins Case.'
Events and Murals Honor Lyric and Elizabeth, Investigators Follow New Lead
As the four-year anniversary approached for Lyric and Elizabeth, officials shared tips to prevent child abduction, and urged parents to establish a code word with their kids.
The city of Evansdale planned a child safety day, and volunteers prepared for the Fourth Memorial Ride and Drive.
In early February 2017, artists Jeff Sonksen and Christopher Leet — both friends with Drew Collins — unveiled murals they'd created to shed light on the girls' cold case. Sonksen and Leet had painted a tribute to two angels, with wings, to serve as a reminder that Lyric and Elizabeth forever soar in the hearts of many.
In July 2017, hundreds rode in the Fifth Memorial Ride and Drive.
On July 12, 2017, KCCI.com reported that, to date, authorities had interviewed more than 1,000 people and looked into more than 300 sex offenders, and that a new lead involved the investigation of an Ankeny sex offender.
Jeff Altmayer, 58, was charged with trying to entice children in Jasper, Monona and Grundy County by offering them $100 to get in his van. Altmayer was arrested in November and accused of trying to lure a 6-year-old girl in his car near Onawa. KWWL reported July 12, 2017, that Altmayer is also suspected in two other incidents — one happening last June near the Dike City Park, and another a couple weeks later near Clay Street Park in Cedar Falls. When asked about Altmayer on July 12, 2017, Roehrkasse told KWWL, "The most I would say is that he is one of our leads and I will leave it at that."
KCCI said court records show Altmayer was working as a traveling automobile damage field inspector.
"It's very concerning to us when you have an individual like that that has the access that he does through his employment at the time to basically roam the state or roam the Midwest," Mitch Mortvedt, Head of Field Operations for the Iowa DCI, said of Altmayer.
Mortvedt also said authorities do not believe Lyric's parents were involved in the girls' deaths. Dan and Misty Morrissey were sent to prison on unrelated drug charges after the girls disappeared, and Mortvedt said Misty Morrissey has since been released.
As of July 2017, two people have confessed to the crime, but KCCI said authorities eliminated them after discovering the individuals had no intimate details about the case.
Investigators have yet to share publicly how Lyric and Elizabeth died.
About Lyric and Elizabeth
Lyric Ray Lynn Cook (courtesy Locke Funeral Home) was born on October 2, 2001, in Waterloo to Dan and Misty Morrissey. She attended Kingsley Elementary School and was 10 years old. Lyric passed away on Friday, July 13, 2012.
Lyric was survived by her parents, Dan and Misty Morrissey; her brother, Dillin Morrissey; maternal grandmother, Wylma Cook and paternal grandmother Vicki Weikert; paternal great-grandmother Ilene Weikert; maternal uncles and aunts Russel Bertch, Kathy and Paul Anderson, Tammy (favorite aunt) and Bill Brousseau, Tracy and Denise Bertch, Heather and Drew Collins, and Jeramia Cook. Lyric was also survived by many cousins and friends.
Lyric was preceded in death by her paternal great-grandfather, Jim Weikert and maternal grandfather, Ray Cook.
Lyric was a very special young lady. She was an infectious joy to be around with a smile that radiated with love. In her short years Lyric came to know the Lord Jesus Christ and the importance of salvation through Jesus for the people of the world. She had a heart of compassion for her family and her friends. Lyric enjoyed bowling, cheerleading and gymnastics. Lyric loved to be outside playing — snow, rain, or shine.
Most seen was Lyric's unconditional love for her family and her special love for her brother Dillin. Her desire to have fun within those loving relationships was seen while going to church, sharing devotions with her parents in the morning and card games with her grandmother in the afternoons.
Memorial services were held at Heartland Vineyard on Saturday, December 29, from 2 to 5:30 p.m.
Elizabeth June Marie Collins (courtesy Overton Family Funeral Homes) was born at Allen Memorial Hospital in Waterloo, Iowa, on July 31, 2003, the daughter of Drew and Heather (Cook) Collins.
She was a student at Poyner Elementary School and was a bubbly little person, with the best smile, who loved what life had to give and all it had to offer. Elizabeth enjoyed dressing up and getting her nails and hair done. She loved singing, riding her bike and playing softball and hockey. She had a big heart and had a great love for animals.
Elizabeth also loved playing with her siblings and ordering them around. She enjoyed going on vacations and had traveled to many places. Many times were treasured as a family lying in bed eating popcorn and watching movies.
Elizabeth passed away on Friday, July 13, 2012. She was eight years old.
She was preceded in death by her paternal great-grandparents Herb and Marie Johnson; maternal grandfather Ray Cook; maternal great-grandparents Cliff and June Brandes and many aunts, uncles, great-aunts and great-uncles.
In addition to her parents, Drew and Heather Collins of Evansdale, Elizabeth was survived by a brother, Kelly, and two sisters, Amber and Callie, all of Evansdale; maternal grandmother Wylma Cook of Waterloo; paternal grandparents Jeno Collins of Detroit and Aaron Michael and Sharon King of Elk Run Heights; and many aunts, uncles and cousins.
Memorial services were held Thursday, December 13, 2012 at 5 p.m. at the Heartland Vineyard Church, 1405 Greenhill Rd., in Cedar Falls.
Graveside services for Elizabeth were held at Waterloo Memorial Park Cemetery on Saturday, May 4, 2013, in Waterloo.
Nearly 200 people attended Elizabeth's burial. Her dog, Gus, also attended the graveside service and was decorated with a rose.
Information Needed:
If you have any information about the circumstances surrounding the disappearance and deaths of Lyric Cook-Morrissey and Elizabeth Collins, please call the Evansdale Police tip line at 232-6682 or Cedar Valley Crime Stoppers at 855-300-8477.
A $150,000 reward, raised privately and by the FBI, is available for information leading to an arrest and conviction in the case.
Additionally, Cedar Valley Crime Stoppers has offered a $50,000 reward for anyone coming forward with information that simply leads to an arrest.
Vigil Held for 3 Girls, Gone too Soon, by Bevan J. Lucas, KGAN, Airdate: March 12, 2015
Iowa starts year-long process to be CART-certified, by Kristyna Engdahl, KETV.com
Airdate: Feb. 10, 2015
DCI Asst. Director Talks About Evansdale Cousins' Murder Investigation, by Kelly Maricle, WHOTV.com, Airdate: January 29, 2015
EVANSDALE MURDERS: Police Rule Out Klunder, by Sam Hoyle, WHOTV.com, Airdate May 14, 2014
Sources and other References:
"New $50,000 reward announced in hopes of bringing new information forward about 2012 deaths of Evansdale girls," by Anna Spoerre, The Des Moines Register, Tuesday, July 30, 2019
"Cedar Valley Crime Stoppers offering $50K reward in case of cousins abducted in Evansdale, murdered," The Cedar Rapids Gazette, Tuesday, July 30, 2019
Cedar Valley Crime Stoppers Offers $50K Reward for information leading to arrest in disappearance, murders of cousins Elizabeth Collins and Lyric Cook, Cedar Valley Crime Stoppers Facebook page, July 30, 2019
"Saturday ride marks 7 years since Evansdale cousins' disappearance: Investigation into deaths of Lyric Cook and Elizabeth Collins remains active," by Kat Russell, The Gazette, Friday, July 12, 2019
"Ride and Drive happening Saturday; honors Evansdale murder victims Lyric and Elizabeth," KWWL.com, July 12, 2019
"TODAY: "We will never forget," Elizabeth Collin's 15th birthday," by Amanda Gilbert, KWWL.com, July 31, 2018
"Memorial Ride and Drive to highlight other missing, unsolved," by Jeff Reinitz, The WCFCourier.com, July 12, 2018
"Angels Park suffers damage during storm (PHOTOS, VIDEO)," by Tim Jamison, The WCFCourier.com, May 10, 2018
"New bridge sought for Evansdale park," by Pat Kinney, globegazette.com, Wednesday, August 16, 2017
"UPDATE: Names released in accident during motorcycle ride for Evansdale cousins," by Forrest Saunders, KCRG.com, July 17, 2017
"Hundreds ride in memory of Lyric and Elizabeth," by Tim Jamison, WCFCourier.com, July 15, 2017
"Gone but not forgotten: Memorial ride honors two cousins," KCCI.com and KCRG-TV9, July 15, 2017
"Lyric & Elizabeth Memorial Ride helps keep case active," by Taylor Bailey, KWWL.com, July 15, 2017
"Mother hopes for arrest 5 years after young girls' murder," by Laura Terrell, KCCI.com, July 13, 2012
"A community says, 'We will never forget'," by Jessica Hartman, KWWL.com, July 13, 2017
"Lyric & Elizabeth: Evansdale Abduction Case Remains Unsolved Five Years Later," by Elwin Huffman, KOEL.com, July 13, 2017
"'I still don't believe it happened': Evansdale cousins remembered on fifth anniversary of disappearance," by Amber Rottinghaus, The Globe Gazette, July 13, 2017
"THIS WEEKEND: 5th Annual Ride and Drive for Lyric and Elizabeth," by Amanda Gilbert, KWWL.com, July 13, 2017
"5 years later: New leads in devastating case bring family hope," by Laura Terrell, KCCI.com, Wednesday, July 12, 2017
"5 YEARS LATER: Multiple leads and confessions in the Lyric and Elizabeth case," KWWL.com, July 12, 2017
"Near fifth anniversary of Lyric and Elizabeth disappearance, kids get safety tips," by Amie Steffeneicher, WCFCourier.com, July 10, 2017
"Family remember Black Hawk County cousins on 5th anniversary of disappearance," by Jordee Kalk, KCRG-TV9, Sunday, July 9, 2017
"Safety event held in memory of Lyric and Elizabeth," KWWL.com, July 9, 2017
"The pain of 2 Iowa girls' killings remains, but resolve in Evansdale only grows," by Linh Ta, The Des Moines Register, dmreg.com, July 8, 2017
"Lyric & Elizabeth Memorial Ride set for this month," by Nikki Newbrough, KWWL.com, July 3, 2017
"Lyric & Elizabeth Memorial Ride set for next month," by Nikki Newbrough, KWWL.com, June 5, 2017
"Does Altmayer arrest have any connection to missing cousins case?" by Jeff Reinitz, WCFCourier.com, April 5, 2017
Phone conversations and correspondence with Drew Collins, ongoing
"Remembering Lyric & Elizabeth: Murals shed light on unsolved case," by Elizabeth Amanieh, KWWL.com, February 3, 2017
"Cold cases stay at top of prosecutor's , investigator's priorities," by Dora Miller, CBS2iowa.com, Monday, December 5, 2016
"Elizabeth Collins would have celebrated her 13th birthday today," KWWL.com, July 31, 2016
"Evansdale marks anniversary of disappearance with safety event," KCCI.com, July 14, 2016
"Four years later, we remember 2 little girls," wcfcourier.com, July 13, 2016
"Remembering Elizabeth and Lyric four years later," by Nikki Newbrough, KWWL.com, July 13, 2016
"Friends and family remember the Black Hawk County cousins on fourth anniversary of disappearance," KCRG-TV9, Wednesday, July 13, 2016
"Safety Awareness Day in honor of cousins murdered 4 years ago," by Amanda Gilbert, KWWL.com, July 13, 2016
"Fourth memorial ride for abducted cousins unites Evansdale," by Christinia Crippes, wcfcourier.com, July 9, 2016
"Fourth Memorial Ride & Drive in honor of Lyric and Elizabeth," by Taylor Bailey, KWWL.com, July 9, 2016
"Volunteers prepare for ride in honor of Lyric and Elizabeth," by Nikki Newbrough, KWWL.com, July 7, 2016
"Evansdale plans child safety day," by Nick Fisher, WCFCourier.com, May 26, 2016
"Officials urge parents to establish a code word with their kids," by O. Kay Henderson, RadioIowa.com, April 25, 2016
"Officials share tips to prevent child abduction," by William Petroski, The Des Moines Register, April 25, 2016
"Few Arrests In Attempted Child Abduction Reports," by Joyce Russell, IowaPublicRadio.org, April 25, 2016
"Seven Bridges Park still important in Lyric and Elizabeth investigation," by Nikki Newbrough, KWWL.com, Feb. 18, 2016
"Investigators Still Fielding Tips in Evansdale Cousins Case," by Staff, WHOTV.com, Feb. 5, 2016
"Dan Morrissey's request for re-sentencing continues," by Jeff Reinitz, WCFCourier.com, Feb. 2, 2016
"The Murder of Elizabeth Collins and Lyric Cook," Unresolved Mysteries at Reddit.com, Jan. 2016
"Morrissey asks for lighter prison sentence," by Jeff Reinitz, WCFCourier.com, Dec. 27, 2015
"Saturday marks heartbreaking date in Evansdale girls case," KCCI.com, Dec. 4, 2015
"Another year passes without arrests in death of Evansdale cousins," by Pat Curtis, RadioIowa, Dec. 4, 2015
"Gone Cold: The case of two missing cousins," Part of the Gone Cold: EXPLORING IOWA'S UNSOLVED MURDERS series, by Lyle Muller, Iowawatch.org and Dickinson County News, Wednesday, Aug. 12, 2015
"Cold-case file overflowing with countless sad stories," The WCF Courier, Aug. 4, 2015
"Podcast: IowaWatch Connection Updates: Evansdale Double Murder Case," iowawatch.org, Aug. 3, 2015
"Cold Case: 'We'd really like to have some answers': The case of two missing cousins who were abducted in Evansdale in 2012 continues to frustrate investigators," by Lyle Muller, nonpareilonline.com, Aug. 2, 2015
"Unsolved Evansdale abduction continues to frustrate investigators — This story is part of "Gone Cold," a series of stories exploring Iowa's unsolved murders," by Lyle Muller, IowaWatch.org and The Des Moines Register, July 28, 2015
"Case of two missing cousins who were abducted in Evansdale in 2012 continues to frustrate investigators: We'd really like to have some answers," by Lyle Muller, IowaWatch.org, The Mason City Globe Gazette, July 28, 2015
"'We'd really like to have some answers': The case of two missing cousins who were abducted in Evansdale in 2012 continues to frustrate investigators," by Lyle Muller, IowaWatch.org, Newton Daily News, Part of the GONE COLD, EXPLORING IOWA'S UNSOLVED MURDERS series, Tuesday, July 28, 2015
"Cousins' murder not considered 'cold case'," by Jeff Reinitz, qctimes.com, July 27, 2015
"Police actively work case of 2 Iowa girls found dead in 2012," by Associated Press, Omaha World-Herald, July 27, 2015
"'We'd really like to have some answers' — Case of 2 missing cousins continues to frustrate investigators," by Lyle Muller, IowaWatch.org / The Carroll Daily Times Herald, July 27, 2015
"False Leads Make For Long Investigation Into Northeast Iowa Cousins' Murders," by Lyle Muller, IowaWatch.org, July 26, 2015
"Evansdale cousins case not considered a 'cold case'," KCCI.com, July 26, 2015
"Evansdale cousins case never to be considered 'cold case'," by Jeff Reinitz, WCFCourier.com, July 26, 2015
"'We'd really like to have some answers'," by Lyle Muller, Iowa Watch / The Sioux City Journal, July 26, 2015
"Public views Angels Park on 3rd anniversary of cousins' abduction," by Holly Hudson, WCFCourier.com, July 14, 2015
"On anniversary of kidnapping/murder, parents visit 7 Bridges," by Nikki Newbrough, KWWL.com, July 13, 2015
"On the three year anniversary, police continue to search for clues in the murder case of two eastern Iowa cousins," KTIV.com, July 13, 2015
"Motorcyclists commemorate death of eastern Iowa cousins," KTVO.com, Monday, July 13, 2015
"Murdered cousins case priority for Evansdale Police," by Nikki Newbrough, KWWL.com, July 12, 2015
"Cyclists, community mark three-year anniversary of cousins' deaths," by Tim Jamison, The Mason City Globe Gazette, July 12, 2015
"Cyclists, community mark three-year anniversary of cousins' deaths," by Tim Jamison, WCFCourier.com, July 11, 2015
"Memorial Ride and Drive for Elizabeth & Lyric today," KWWL.com, July 11, 2015
"Organizers hope event brings new light to Evansdale cousins case," by Nikki Newbrough, KWWL.com, July 9, 2015
"Film chronicles Johnny Gosch's mother's search for the truth," by Micah Mertest, The Omaha World-Herald, July 6, 2015
"Memorial ride set for Lyric Cook and Elizabeth Collins," by Nikki Newbrough, KWWL.com, June 1, 2015
"Evansdale City Council fires police chief," by Jeff Reinitz, wcfcourier.com, April 15, 2015
"Missing cousins case to remain 'paramount' after firing of police chief," by Chris Earl, KCRG-TV9, April 15, 2015
"Contractors donate to park honoring Evansdale cousins," KCCI.com, April 5, 2015
"Contractors donate to Angels Park," KCRG-The Gazette and The Courier, April 5, 2015
"Dirt donations rolling in for Angel's Park," KWWL.com, March 24, 2015
"Angels Park looking for donation of topsoil," KCRG-The Gazette, wcfcourier.com, March 20, 2015
"Vigil Held for 3 Girls, Gone too Soon," by Bevan J. Lucas, cbs2iowa.com, Thursday, March 12, 2015
"Kent Smock leaves fire chief post to focus on Evansdale police duties," by Tim Jamison, wcfcourier.com, Feb. 23, 2015
"Iowa GOP lawmakers push to revive death penalty," by William Petroski," The Des Moines Register, Feb. 16, 2015
"Iowa starts year-long process to be CART-certified," by Kristyna Engdahl, KETV.com, Airdate: Feb. 10, 2015
"Continuing efforts in abduction, murder cases are appreciated," The Waterloo Cedar Falls Courier, wcfcourier.com, Feb. 9, 2015
"Murdered girls' case taints Iowa park for residents," by Grant Rodgers, The Des Moines Register, Feb. 6, 2015
"Calls pour in after police seek help in case of Iowa girls' 2012 deaths," The Omaha World Herald, omaha.com, Friday, Feb. 6, 2015
"Evansdale police request for help in murder of cousins getting results," by Matt Kelley, RadioIowa.com, Feb. 6, 2015
"Iowa park where slain girls were found has history," by Grant Rodgers, The Des Moines Register, Feb. 5, 2015
"More Tips Coming in About Cousins' Kidnapping, Murder," by WHOTV.com Staff, Feb. 5, 2015
"UPDATE: Evansdale cousins case focusing on wildlife area; public help sought," by Jeff Reinitz, wcfcourier.com, Feb. 3, 2015
"Murder suspect was probably familiar with park," by Jeff Reinitz, The Waterloo Cedar Falls Courier / Globe Gazette, Feb. 3, 2015
"Investigators focusing on Bremer County wildlife area in Evansdale missing cousins case: 'We're going to be very careful' with any tips, police chief says," by Lee Hermiston, The Gazette, Feb. 3, 2015
"Slain Evansdale girls' case to focus on wilderness area," by Grant Rodgers, The Des Moines Register, Feb. 3, 2015
"Lyric and Elizabeth: Full statement released by Evansdale Police," KWWL.com, Feb. 3, 2015
"Investigators provide update in Evansdale cousins case," by Tad Andersen, KCCI.com, Feb. 3, 2015
"Evansdale Lyric & Elizabeth case laid before national experts," by Jeff Reinitz, wcfcourier.com, Feb. 2, 2015
"Press conference on missing Iowa cousins case Tuesday," by Jeff Reinitz, The Globe Gazette, Feb. 2, 2015
"DCI Asst. Director Talks About Evansdale Cousins' Murder Investigation," by Kelly Maricle, WHOTV.com, Jan. 29, 2015
"Evansdale Murder Investigation to be Reviewed by Experts in Virginia," by Staff, WHOTV.com, Jan. 28, 2015
"Investigators in Virginia to present Evansdale case to experts," by Jeff Reinitz, The Globe Gazette, and at wcfcourier.com, Jan. 28, 2015
"Evansdale police seek more national help in murder of cousins," RadioIowa.com, Jan. 28, 2015
"COLD CASE SPOTLIGHT: Elizabeth Collins and Lyric Cook," DATELINE, nbcnews.com, Sunday, Dec. 14, 2014
"Christmas display up at Angels Park," by Michael Crowe, KWWL.com, Dec. 11, 2014
"Police still receiving tips in 2012 deaths of Iowa cousins," Omaha.com, Dec. 6, 2014
"Two Years Since Evansdale Cousins' Bodies Were Found, Crime Still Unsolved," by Staff, WHOTV.com, Dec. 5, 2014
"Leads still coming two years after cousin's bodies found," by Jeff Reinitz, WCFCourier.com, Dec. 5, 2014
"Lyric and Elizabeth still remembered in Evansdale," by Nikki Newbrough, KWWL.com, Dec. 4, 2014
"2 years later: Where investigators are in case of Evansdale girls," by Laura Nichols, KCCI.com, Dec. 3, 2014
"Angels' Park, Evansdale, receives donation from Independence Red-Hatters," by Tari Robertson, The Independence Bulletin Journal, Saturday, Nov. 22, 2014
"Police believe cousins' abductor is an Evansdale local," by Jeff Reinitz, The Globe Gazette, Aug. 23, 2014
"Investigators Release Suspect Profile in Murder of Evansdale Cousins," by Aaron Hepker, whotv.com, Aug. 22, 2014
"Evansdale Police start dedicated Lyric and Elizabeth web page," by Amie Steffeneicher, KWWL.com, Aug. 21, 2014
"Police post website for cousins updates," by Jeff Reinitz, WCFCourier.com, Thursday, Aug. 21, 2014
"Mother of abducted cousin pleads guilty to drug charges," WCFCourier.com, Friday, July 25, 2014
"Misty Morrissey pleads guilty to drug charges," by Eric Page, KWWL.com, July 24, 2014
"Sadness remains as two-year mark passes in cousins' case," The Waterloo-Cedar Falls Courier/The Clinton Herald, July 22, 2014
"Dan Morrissey loses appeal in drug sentence," by Jeff Reinitz, WCFCourier.com, July 16, 2014
"Family of Iowa cousins try to move forward," The Clinton Herald, July 14, 2014
"Investigation continues as families try to put lives back together," by Jeff Reinitz, wcfcourier.com, July 13, 2014
"Cousins murder investigation continues as families try to put lives back together," by Jeff Reinitz for The Globe Gazette, July 13, 2014
"Investigation into murder of cousins continues in Evansdale," by Jeff Reinitz (Waterloo Courier), qctimes.com, July 13, 2014
"Motorcycle ride remembers Evansdale cousins," by Tim Jamison, WCFCourier.com, July 12, 2014
"Ride for the Girls marks 2nd anniversary of disappearance," by Bob Waters, KWWL.com, July 11, 2014
"Hundreds expected at memorial ride for Evansdale cousins," by Shelley Russell, KWWL.com, July 11, 2014
"Registration open for motorcycle ride in memory of slain Evansdale cousins," by Shelley Russell, KWWL.com, June 10, 2014
"Drew Collins rides bicycle in Elizabeth's memory in New York," by Kyle Palmolea, KWWL.com, May 16, 2014
"Lyric, Elizabeth update: Klunder ruled out as killer of girls," by Jeff Reinitz, WCFCourier.com, May 15, 2014
"Missing girls update: Klunder ruled out as killer of girls," by Jeff Reinitz, WCFCourier.com, May 14, 2014
"Klunder no longer 'person of interest' in Evansdale case," KWWL.com, May 14, 2014
"EVANSDALE MURDERS: Police Rule Out Klunder," by Sam Hoyle, WHOTV.com, May 14, 2014
"Drew Collins, Trelka to participate in missing children bike ride," WCFCourier.com, March 17, 2014
"Mother of Evansdale girl arrested, jailed again," KCCI.com, March 4, 2014
"Mother Of Slain Evansdale Girl Back In Custody," KCRG-TV9, Cedar Rapids, Iowa, March 4, 2014
Lyric Ray Lynn Cook obituary, Locke Funeral Home
Elizabeth June Marie Collins obituary, Overton Family Funeral Homes
"When a child goes missing: The Collinses find new calling in advocating for abduction prevention," Cedar Falls Times Dec. 23, 2013
"Photos: The hunt for Elizabeth and Lyric (part 1) : The hunt for Lyric and Elizabeth," WCF Courier, Dec. 5, 2013
"Photos: The hunt for Elizabeth and Lyric (part 2) : The hunt for Lyric and Elizabeth," WCF Courier, Dec. 5, 2013
"Calls Still Coming On Slain Iowa Cousins," WOWT.com, Dec. 5, 2013
"Parents of Elizabeth Collins, ex-DCI agent to speak at S.R. United Methodist – Community Newspaper Group," Dec. 5, 2013
"Evansdale girls case update: 1 year after they were found dead," KCCI.com, Dec. 5, 2013
"EVANSDALE COUSINS: Bodies Found A Year Ago," by Staff, WHOTV.com, Dec. 5, 2013
"One year after Lyric & Elizabeth found murdered, case not cold," KWWL.com, Dec. 4, 2013
"A year later, probe continues in Iowa cousins' deaths," The Montgomery Advertiser, montgomeryadvertiser.com, Dec. 4, 2013
"Poyner Elementary fifth graders make jewelry in memory of friend," KWWL.com, Nov. 3, 2013
"REMEMBERING LYRIC: Family Honors Slain Girl," by Staff, WHOTV.com, Oct. 3, 2013
"Family remembers Lyric Cook on birthday," KWWL.com, Oct. 2, 2013
"Angels Among Us" Poker Run honors kidnapped girls," KWWL.com, Aug. 17, 2013
"Authorities warn of scam surrounding slain Evansdale girls," RadioIowa, Aug. 14, 2013
"Door-to-door scam requests donations for Lyric Cook and Elizabeth Collins," WQAD.com, Aug. 13, 2013
"ROLLER DERBY: Event To Honor Memory of Girls," by Staff, WHOTV.com, Aug. 10, 2013
"Child abduction response training coming to North Iowa," KIMT TV, Aug. 9, 2013
"Preventing Abuse Conference in Cedar Rapids Looks at Human Trafficking," KCRG-TV9, Cedar Rapids, Iowa, Aug. 9, 2013
"Derby Divas to raise funds for Angels Park : The hunt for Lyric and Elizabeth," WCF Courier, Aug. 9, 2013
"Amber Alert improved," WCF Courier, Aug. 8, 2013
"AMBER ALERT: Elizabeth's Parents Support Change," by Staff, WHOTV.com, Aug. 1, 2013
"Kidnapping cases prompt change to Amber Alert criteria," The Des Moines Register Staff Blogs, July 31, 2013
"Evansdale cousins remembered in Saturday's 'Memorial Ride and Drive for the Girls' – Community Newspaper Group," July 18, 2013
"Iowans Mark Missing Cousins Anniversary," KELOLAND.com, July 14, 2013
"Community remembers Elizabeth and Lyric on first anniversary : The hunt for Lyric and Elizabeth," WCF Courier, July 13, 2013
"Hundreds of Motorcycles Ride to Remember Evansdale Cousins," KCRG-TV9, Cedar Rapids, Iowa, July 13, 2013
"Memorial ride honors girls' memory, raises funds for Crime Stoppers, park," Globe Gazette, July 13, 2013
"ONE YEAR: Parents 'Happy' With Investigation," WHOTV.com, July 12, 2013
"Turning Tragedy into Beauty: Work Continues at Angels Park," KCRG-TV9, Cedar Rapids, Iowa, July 12, 2013
"1 year later: Collins family remains active after disappearance of Elizabeth, Lyric : The hunt for Lyric and Elizabeth," WCF Courier, July 12, 2013
"Investigators Grieve With Families, Community as 1-Year Anniversary of Evansdale Abduction Approaches," Cedar Falls (IA) Patch, July 11, 2013
"Photos: The hunt for Elizabeth and Lyric (part 2) : The hunt for Lyric and Elizabeth," WCF Courier, July 11, 2013
"ANNIVERSARY MEAL: Remembering Slain Cousins," WHO-TV Channel 13, July 10, 2013
"Slain cousins case frustrates as anniversary nears," The Associated Press, July 8, 2013
"Memorial Ride and Drive For The Girls set for July 13th," KWWL.com, July 7, 2013
"Year has brought new purpose, no comfort for Elizabeth Collins' family," The Des Moines Register, desmoinesregister.com, July 7, 2013
"Family finds new purpose after Iowa girls disappeared," USA Today, July 7, 2013
"Slain Iowa Girl's Father Pleads Guilty In Drug Case," KCRG-TV9, Cedar Rapids, Iowa, June 26, 2013
"New and old tips led to new appeal in abducted cousins case, chief says : The hunt for Lyric and Elizabeth," Waterloo Cedar Falls Courier, June 25, 2013
"New focus on vehicle gives parents of abducted girls some hope," RadioIowa.com, June 25, 2013
"Elizabeth Collins' parents react to new eyewitness report," KCCI.com, June 25, 2013
"Evansdale missing cousins Law Enforcement update," Community Newspaper Group : Independence Bulletin Journal, June 25, 2013
"Heather & Drew Collins Talk About New Tips, Investigation Nearing One Year," KCRG-TV9, Cedar Rapids, Iowa, June 24, 2013
"MURDERED COUSINS: New Tip In Case," WHOTV.com, June 24, 2013
"Morrissey pleads guilty to meth charges : The hunt for Lyric and Elizabeth," WCF Courier, June 24, 2013
"DCI searching for white SUV in connection with Lyric, Elizabeth," KWWL.com, June 24, 2013
"Evidence in Dayton, Evansdale cases headed to FBI crime lab," Des Moines Register blogs, June 21, 2013
"Police Investigate Dayton-Evansdale Abductions Connection," KCRG-TV9, Cedar Rapids, Iowa News, June 19, 2013
"Officials to compare abduction to unsolved Iowa cases," USA Today, June 10, 2013
"Elizabeth Collins' parents hope to attend Shepard's funeral," The Gazette, June 9, 2013
"SHOWING SUPPORT: Bikers Ride In Honor," WHO-TV Channel 13, June 8, 2013
"Police still looking for link between Dayton kidnapping, Evansdale cousins' case : The hunt for Lyric and Elizabeth," by Jeff Reinitz, WCF Courier, June 7, 2013
"Authorities Still Looking into Klunder in Evansdale Case," KIMT Channel 3, June 7, 2013
"Evansdale investigators: Klunder just one of leads in case," KCCI News Channel 8, June 7, 2013
"Link between two Iowa abductions still being explored," RadioIowa, June 7, 2013
"EVANSDALE CASE: Authorities Consider Klunder And Other Leads," WHOTV.com, June 7, 2013
"Iowa Official: Psychics Not on Payroll," WOW-TV Channel 6, June 6, 2013
"Work continues on Angels Memorial : The hunt for Lyric and Elizabeth," by Holly Hudson, WCF Courier, June 3, 2013
"UPDATE: Police look for link between Dayton kidnapping and cousins' case : The hunt for Lyric and Elizabeth," by the Associated Press and Courier Staff, WCF Courier, May 30, 2013
"Investigators hope to decide next week whether Klunder involved in Evansdale murders," The Gazette, May 29, 2013
"Police examine sex offender in Iowa cousins' slayings," Omaha.com, May 29, 2013
"Police Still Examining Klunder's Possible Connection To Evansdale Case," KCRG-TV9, Cedar Rapids, Iowa, May 29, 2013
"In 'evil' week, tiny Dayton tries to cope," The Des Moines Register, May 26, 2013
"ABDUCTION LINK? Elizabeth's Mom Hopes For Closure," WHOTV.com, May 24, 2013
"NEW DETAILS: Investigator: Missing Iowa girl's blood found," by Ryan J. Foley, Associated Press, May 23, 2013
"Investigators probe Evansdale-Dayton connection," KCCI.com, May 23, 2013
"Michael Klunder, Iowa Kidnapping Suspect, Probed In Death Of Lyric Cook, Elizabeth Collins," Huffington Post, May 23, 2013
"Kathlynn Shepard Missing: Authorities also probe suspect Michael Klunder in 2012 slayings of Iowa cousins Lyric Cook and Elizabeth Collins," Crimesider, CBS News, May 23, 2013
"Police seek link between abduction suspect, Evansdale cousins," by Jeff Reinitz, Waterloo Courier/QC Times, May 21, 2013
"Evansdale investigators looking for links in Dayton missing girl case," The Des Moines Register, May 21, 2013
"Library memorial for murdered cousins opening today : The hunt for Lyric and Elizabeth," WCF Courier, May 20, 2013
"Missing cousins ribbons to be recycled : The hunt for Lyric and Elizabeth," by Holly Hudson, WCF Courier, May 10, 2013
"Funeral held for 1 of 2 slain Iowa cousins," The WCF Courier, May 4, 2013
"Funeral Held For 1 of 2 Slain Iowa Cousins," by Associated Press, KDLT.com, South Dakota News, May 4, 2013
"Hundreds mourn at burial service for Elizabeth Collins : The hunt for Lyric and Elizabeth," by Jon Ericson, WCF Courier, May 4, 2013
"Hundreds mourn at burial ceremony for Elizabeth Collins," The Sioux City Journal, May 4, 2013
"Hundreds mourn at Evansdale girl's burial," Quad-City Times, May 4, 2013
"Photos: Elizabeth Collins' graveside service," by Matthew Putney, WCF Courier, May 4, 2013
"ELIZABETH BURIED: Mourners Attend Funeral," WHOTV.com, May 4, 2013
"Funeral Set For Elizabeth Collins," KCRG-TV9, Cedar Rapids, Iowa, KCRG.com, May 3, 2013
"Elizabeth Collins funeral Saturday open to public," KWWL.com, May 3, 2013
"Dispatchers honored for cousins tipline : The hunt for Lyric and Elizabeth," by Jeff Reinitz, WCF Courier, May 2, 2013
"ASSAULT CASE: Dan Morrissey's Trial Delayed," WHOTV.com, April 28, 2013
"UPDATE: Three Iowa law enforcers receive victim service awards," by Mike Wiser, WCF Courier, April 25, 2013
"Two Black Hawk Co. law officers recognized in Des Moines," KWWL.com, April 25, 2013
"Angels concert raises more than $30,000 : The hunt for Lyric and Elizabeth," by Holly Hudson, WCF Courier, April 23, 2013
"Evansdale park plan progressing : The hunt for Lyric and Elizabeth," by Holly Hudson, WCF Courier, April 23, 2013
"Progress continues on memorial for cousins," KCCI, April 23, 2013
"Will Slain Iowa Girls Ever Get Justice?" Gather.com, April 22, 2013
"Photos: Concert for the Angels," WCF Courier, April 20, 2013
"Concert for the Angels remembers Lyric and Elizabeth," KWWL.com, April 20, 2013
"Concert for the Angels draws large Cedar Valley crowd : The hunt for Lyric and Elizabeth," by Tim Jamison, WCF Courier, April 20, 2013
"Saturday 'Angels' concert takes shape : The hunt for Lyric and Elizabeth," by Holly Hudson, WCF Courier, April 18, 2013
"Paying it forward: Dozens of "Concert for the Angels" tickets," KWWL.com, April 17, 2013
"Private memorial held for Lyric Cook-Morrissey : The hunt for Lyric and Elizabeth," WCF Courier, April 13, 2013
"Funeral Held for Lyric Cook-Morrissey," Gather, April 13, 2013
"Funeral service held for missing Iowa girl," WXOW News 19 La Crosse, WI, April 13, 2013
"Memorial Service Held for Lyric Cook," KCRG-TV9, April 12, 2013
"Funeral service for Lyric Cook held today, sources confirm," KWWl.com, April 12, 2013
"Evansdale Police Chief: "Stranger danger" conversation important," KWWL.com, April 11, 2013
"Concert for the Angels," WCF Courier, April 5, 2013
"Angel's Park: Volunteers Urge Patience," WHO-TV Channel 13, April 3, 2013
"Girls make bracelets to raise funds for Angels Park," WCF Courier, April 2, 2013
"Volunteers Get to Work on Angels Park," KCRG TV9, Cedar Rapids, April 2, 2013
"MURDERED CHILD: Burial for Elizabeth Collins," WHO-TV Channel 13, April 2, 2013
"Evansdale Abduction: Burial Planned for Elizabeth Collins an 'Unbearable Step' But Part of Healing Process," The West Des Moines Patch, April 2, 2013
"Public burial set for Elizabeth Collins," WCF Courier, April 2, 2013
"Public burial set for 1 of 2 slain Iowa cousins," Des Moines Register, April 2, 2013
"Raising Money: Efforts Help Remember Missing Girls," WHO-TV Channel 13, March 27, 2013
"'Angels' concert for Lyric, Elizabeth set," WCF Courier, March 6, 2013
"Angels Park taking shape," WCF Courier, March 4, 2013
"Surprise Move: Dan Morrissey Pleads Guilty," WHO-TV Channel 13, March 1, 2013
"Residents warned about Angels Park Scam," WCF Courier, Feb. 24, 2013
"Park honoring abducted cousins advancing," WCF Courier, Feb. 22, 2013
"COUSINS MEMORIAL: Bank Donates Money For Gazebo," WHO-TV Channel 13, Feb. 21, 2013
"Memorial gazebo for Evansdale cousins in the works," KWWL Channel 7, Feb. 21, 2013
"Is Evansdale girls' killer on the loose? Sheriff: No comment," KWWL Channel 7, Feb. 12, 2013
"Park and trail renamed for Iowa cousins," WQAD-TV, Feb. 6, 2013
"Officials to Rename Park, Trail for Cousins Abducted from Evansdale," KCRG-TV Channel 9, Feb. 5, 2013
"Iowa lawmaker calls for legislative hearings on death penalty," The Cedar Rapids Gazette, Jan. 25, 2013
"Cause of Evansdale cousins' deaths will be kept confidential," The Des Moines Register, Jan. 2, 2013
"Funeral for Lyric Cook planned for Dec. 29," The Iowa City Press-Citizen, Dec. 17, 2012
"Push for 'Cousins Law' grows as bodies found," The WCF Courier, Dec. 10, 2012
"UPDATE: Medical examiner confirms bodies found are missing Evansdale girls," The Waterloo Cedar Falls Courier, Dec. 10, 2012
"Autopsies confirm bodies are missing girls," KCCI Channel 8, Dec. 10, 2012
"Cousins case nears homicide classification," The Des Moines Register, Dec. 8, 2012
The Des Moines Register Complete Coverage on Lyric Cook and Elizabeth Collins Case
127 Photos — Search for Missing Iowa Girls, The Des Moines Register
"Missing Girls: Autopsies could take weeks," KCCI Channel 8 Des Moines, Dec. 7, 2012
"EVANSDALE SYMPATHIES: Grandmother Speaks," WHO-TV Channel 13 Des Moines, Dec. 7, 2012
"MISSING GIRLS: Officials Confident About Identities," WHO-TV Channel 13 Des Moines, Dec. 6, 2012
"MISSING GIRLS: Hunters Find Two Bodies," WHO-TV Channel 13 Des Moines, Dec. 5, 2012
"2 bodies found in N.E. Iowa, 5 months after young cousins vanished: Lyric Cook-Morrissey, Elizabeth Collins may be found, authorities say," The Des Moines Register, Dec. 5, 2012
"Anonymous donor adds $100K to reward for two missing Iowa girls," The Des Moines Register, Nov. 30, 2012
Iowa Department of Public Safety Missing Person Information Clearinghouse
"Letter to the kidnapper of Elizabeth Collins and Lyric Cook-Morrissey," WCF Courier, Nov. 13, 2012
"Missing cousins' parents write open letter to kidnapper," WCF Courier, Nov. 13, 2012
"Mother of missing girl faces new court date," KCCI Channel 8 Des Moines, Nov. 12, 2012
"Dad's message for daughter: 'I will never stop looking'," KCCI Channel 8 Des Moines, Oct. 19, 2012
"UPDATE: Police re-canvass Evansdale for missing girls," WCF Courier, Oct. 18, 2012
"What do jurors know about missing girl's dad?", KCCI Channel 8 Des Moines, Sept. 26, 2012
"Survey to ask jurors about missing Iowa girl's dad," The Cedar Rapids Gazette, Sept. 25, 2012
"Evansdale marks two months since cousins' disappearance," The Cedar Rapids Gazette, Sept. 13, 2012
"Innocence Abducted: From Johnny Gosch to Evansdale Cousins, 30 Years Have Brought Many Changes to Missing Children Investigations," Johnston Patch, Sept. 7, 2012
"Attempted Abduction Reports in Ames Jump After Evansdale Girls Go Missing," The Ames Patch, Sept. 5, 2012
"Search for missing Evansdale, Iowa, girls remains urgent for family, police," The Sioux City Journal, Aug. 22, 2012
"Missing Iowa girls' families struggle with worry, fear," The Cedar Rapids Gazette, July 30, 2012
"Surveillance video may be last known sighting of missing girls," by Tina Hinz, The Waterloo Cedar Falls Courier, July 26, 2012
"As search for missing girls continues, trial looms for one girl's father," The Cedar Rapids Gazette, July 25, 2012
"Mother of missing Evansdale girl says she passed second polygraph test," The Cedar Rapids Gazette, July 23, 2012
"MISSING GIRLS: Police Search for Evansdale Girls," WHOTV.com, July 13, 2012