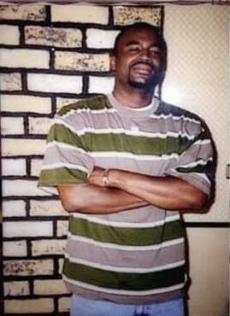 On Friday, January 3, 2003, Waterloo police discovered the bodies of Alonzo Nakia Quinn, 27, and Rhiannon Marie Olsen, 22, inside Quinn's home at 1001 Hartman Avenue in Waterloo. Olsen was nine months pregnant with Quinn's child.
Both Quinn and Olsen had been shot to death. Olsen's unborn child, a boy who was to be named Jalen, did not survive.
Olsen's family members became concerned when they didn't hear from her and asked authorities to check on her welfare at her boyfriend's home at the Hartman Avenue house. Inside, police and paramedics found the deceased bodies.
Witnesses in a kidnapping case described Quinn as a drug dealer, and authorities said a group from Iowa City was hunting Quinn and other Waterloo men involved in the drug trade months before the killings.
The group was trying to get money from the Waterloo men, and, to that end, they terrorized women associated with the Waterloo men, prosecutors said.
Olsen had previously been tied up by burglars in October 2002 when three to four people broke into her Cedar Falls apartment, demanded money, and ransacked the residence. No one has been arrested in that crime.
The following article, which details the couple's murder, appeared in the Waterloo-Cedar Falls Courier on June 1, 2003.
---
June 01, 2003 | By Jeff Reinitz, Courier Staff Writer
WATERLOO — In the months before Alonzo Quinn and his girlfriend were found shot to death in his home, he and two others were hunted, according to prosecutors.
The hunters were a group of men, one of whom had been a drug trafficking suspect, that terrorized women their targets knew in order to find them, prosecutors said.
Duct tape was a common tool in the crimes, as were broomsticks, detectives said.
Authorities have remained silent about the ongoing investigation into the unsolved slayings of Quinn, 27, and 22-year-old Rhiannon Olsen, who was nine months pregnant with his child.
Both were found dead of gunshot wounds in his Hartman Avenue house Jan. 3.
Friday, Assistant Black Hawk County Attorney Ray Walton laid out part of the state's case against David Erroll Willock, one of the men he said was pursuing Quinn. Walton argues Willock was also pursuing kidnapping-victim-turned-shooting-suspect Anthony Cole and a third man, Lamont Horton.
"The motive is clearly money and taking money by force," Walton told the court at Willock's hearing.
Walton said Willock, a 30-year-old bartender from Iowa City, and two others wanted money from Quinn, Cole and Horton, and they targeted women connected with them.
Willock hasn't been charged in the January double slaying — no one has — but he was charged with kidnapping, burglary and robbery in an Oct. 16 home invasion in Waterloo and the botched kidnapping of Cole and his girlfriend from her apartment in Cedar Falls Oct. 26.
Walton wants Willock to have one trial for both crimes because, he said, they were part of a common scheme. But defense attorneys John Lane and John Bishop said this would hurt his chances of a fair trial. They are asking the cases be separated.
Visits in the night
In the Oct. 16 burglary, a woman told police three men in ski masks entered her Waterloo apartment while she was in bed. They bound her and her children, ages 6 and 7, with duct tape.
The intruders made the woman try to phone Horton and Quinn in an attempt to lure them to her apartment, Bishop said. He argued motives for both crimes appear to be different.
After the woman was unable to contact the men, one of the assailants raped her and she was assaulted with a broomstick, according to court records.
Then, in the early morning hours of Oct. 26, a number of armed men confronted Cole and his girlfriend at her apartment.
Duct tape was used to restrain the two. Cole was beaten with a handgun, and the attackers threatened to use a broomstick on the woman, Walton said.
The victims were taken to the girlfriend's car, where Cole was eventually able to break free of his bonds and attack a man he identified as Willock before escaping. The woman escaped later, breaking out of the car's trunk.
Cole was arrested for attempted murder in March after police said he shot two men in an unrelated incident in the parking lot of Club Crystyles.
According to Cedar Falls police, Olsen was also paid a visit by burglars in October.
She said three or four people broke into her Tremont Street apartment in Cedar Falls at about 1 a.m. Oct. 5 while she was alone in bed.
The intruders wrapped her wrists in duct tape and also covered her eyes, police said. The burglars ransacked the home, as if looking for something. Olsen was not injured.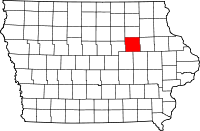 Black Hawk County in Iowa

Waterloo in Black Hawk County
Police said Olsen told them she didn't know what the burglars sought.
No one has been arrested in connection with the Oct. 5 burglary.
Search warrant
Detectives with Waterloo and Cedar Falls police departments worked the kidnapping and burglary cases, and their investigations brought them to Willock.
Along with Cole's eyewitness identification, cellular telephone records placed Willock in the Cedar Falls area at the time of the crime, prosecutors said.
Investigators tied Willock to the Waterloo home invasion after finding his DNA on a milk jug at the apartment, Walton said. But defense attorney's appear ready to argue he had been a guest at the apartment 10 days earlier.
Still, by the end of November, the Black Hawk County area officers didn't have the probable cause they needed to search Willock's Iowa City home, and no one had been arrested in the crimes.
That's when they got wind of a Muscatine-area investigation into Willock's brother, Richard.
Richard Willock, who is part owner of the Press Box nightclub where David works, lives at the same Weeber Street home as David.
Muscatine police said Richard Willock illegally used the name and credit history of former Hawkeye football star Tavian Banks to buy a 1999 Chrysler LHS from a dealership there in 2000.
Waterloo and Cedar Falls police didn't have a warrant to search the Weeber Street house, but Muscatine Det. Matthew Schwarz, who was looking into the identity theft case, did.
The Muscatine detective allowed a Waterloo investigator and two Cedar Falls officers to come along during the Nov. 25 search.
Receipt for duct tape
A 14-man SWAT team from the Iowa City Police Department secured the house, and the investigators started their search.
Schwarz said a handgun was found under David Willock's pillow, and another weapon was located in the bedroom of Luther Hammett Jr.. who would later be charged in the Oct. 26 abduction.
But in November police learned they didn't have the authority to seize the guns, and the weapons were later returned.
Taking the witness stand during Friday's hearing, Waterloo Police Investigator Scott Lake said they found a receipt on a dresser in Richard Willock's bedroom. It was from a nearby Wal-Mart and listed Duck-brand duct tape and a number of ski masks as the items purchased.
The date on the receipt was the same day as the Waterloo home invasion, Lake said.
Officers didn't have the authority to take the receipt, and Richard Willock refused to surrender it, officers said.
Police did photograph it and then went to the store where they obtained a security camera tape showing the transaction.
Defense attorneys are asking the court to throw out the photo of the receipt, the store videotape and other documents found at the Iowa City house.
Police also found marijuana stems and seeds along with a vacuum sealing machine similar to those often used by people in the drug trade to package narcotics, Schwarz said.
Both Willocks and Hammett had been arrested for possession of marijuana with intent to deliver and violation of the state's drug tax stamp act in August after officers found 21.7 pounds of the drug. The case was later dismissed.
© Copyright 2013, Waterloo Cedar Falls Courier
---
About the Victims
Alonzo Nakia Quinn was born May 6, 1975.
He died Jan. 2, 2003, at his home.
Survivors included his mother, Ola Mae Quinn of Rosedale, Miss.; his father, James Quinn Sr. of Waterloo, Iowa; his maternal grandmother, Lula Mae Reed of Malvina, Miss.; 10 sisters, Rosetta Jackson of Rosedale, Elaine Scott, Hattie Quinn, Miosho Quinn and Anna Quinn, all of Waterloo, Iowa, Ola Mae Coleman of Nantucket, Mass., Gussie Dillard of Rochester, N.Y., and Evelyn Usry, Jennie Usry and Sabrina Taylor, all of Rosedale; and seven brothers, Richard Lewis, James Quinn Jr., Dennis Quinn, Danny Quinn and Blake Jones, all of Waterloo, Iowa, Patrick Lewis of Phoenix, Ariz., and Leon Quinn of New York.
Visitation was held Friday, January 10, 2003, from 2 to 6 p.m. at Byas Funeral Home in Cleveland, Mississippi.
Funeral services were held Saturday, January 11, at 11 a.m. at Gospel Temple Church, Rosedale, with Brother Kevin Stancil officiating.
Alonzo was laid to rest at the Charity of Peace Cemetery in Malvina, Mississippi, under the direction of Byas Funeral Home in Cleveland, Mississippi.
---
Rhiannon Marie Olsen was born November 8, 1980, in Waterloo, Iowa, the daughter of Dale and Cindy (Mikkelsen) Olsen. Rihannon, age 22 years, along with her son, Jalen Quinn, died Thursday, January 2, 2003, at Waterloo, Iowa.
She graduated from Cedar Falls High School in 1999. Rhiannon attended Iowa State University and the University of Northern Iowa. She was a recent graduate of LaJames Cosmetology College in Cedar Falls.
Rihannon was survived by her father, Dale Olsen of New Hartford, Iowa and her mother Cindy Olsen of Cedar Falls, Iowa; one brother, Gabriel (Gabe) Olsen of New Hartford, Iowa; one nephew, Drady Dunsmoor; her paternal grandmother, Mathilda Olsen of New Hartford, Iowa and her maternal grandmother, JaNette Mikkelsen of Cedar Falls, Iowa; a special friend, Melissa Lindaman of Cedar Falls, Iowa.
She was preceded in death by her paternal grandfather, George Olsen and her maternal grandfather, Elmer Mikkelsen.
Funeral services were held at 10 a.m. Wednesday, January 8, 2003, at Fredsville Lutheran Church in rural Cedar Falls, with burial at the Fredsville Evangelical Lutheran Church Cemetery in Grundy County, Iowa.
No one has ever been charged in Olsen and Quinn's deaths.
Information Needed
If you have any information about this unsolved crime, please contact the Waterloo Police Department at 319-291-4340, ext. 3, or the Cedar Valley Crime Stoppers at 855-300-TIPS (8477). Anyone with information leading to an arrest is eligible for a $1,500 reward.
You may also submit tips anonymously through the Cedar Valley Crime Stoppers Confidential Web Tip Information System.
Sources:
"Cold Case: 15 years later," by Elizabeth Amanieh, KWWL.com reporter, Jan. 3, 2018
"Investigators release enhanced video in cold case double slaying," by Jeff Reinitz, wcfcourier.com, Wednesday, Sept. 28, 2016
"December 18, 2012," WCF Courier, December 18, 2012
"Jury gets Cole shooting case," by Jeff Reinitz, WCF Courier, February 9, 2007
"Prosecutor, defense state their cases in shooting trial," by Jeff Reinitz, WCF Courier, January 27, 2007
"Victim recounts attack in Willock's second trial," by Jeff Reinitz, WCF Courier, December 1, 2005
"Cedar Valley must learn from L.A., Chicago of '92," WCF Courier, May 15, 2005
"Kidnapping retrial set for May," by Jeff Reinitz, WCF Courier, April 9, 2005
"Home invasion conviction overturned," by Jeff Reinitz, WCF Courier, December 22, 2004
"Suitcase of cash may link unsolved crimes," by Jeff Reinitz, WCF Courier, May 23, 2004
"Waterloo crime decreases," by Emily Christensen, WCF Courier, January 16, 2004
"Officer slaying is top news story of 2003," by Nancy Raffensperger Newhoff, WCF Courier, December 28, 2003
"Willock guilty on all counts," by Jeff Reinitz, WCF Courier, September 28, 2003
"Home invasion trial begins," by Jeff Reinitz, WCF Courier, September 18, 2003
"Prosecutor: Murder victim had been hunted," by Jeff Reinitz, WCF Courier, June 1, 2003
Alonzo Quinn obituary, The Delta Democrat-Times, Friday, January 10, 2003
Rhiannon Marie Olsen obituary (Courtesy Dahl-Van Hove-Schoof Funeral Home)
"Police press to crack shooting cases," WCF Courier, March 7, 2003
"Two bodies discovered in Waterloo: Foul play suspected in deaths of pregnant 22-year-old from Cedar Falls, Waterloo man, 27," by Andrew Wind, Veronica Stickney and Matthew Wilde, WCF Courier, Sunday, January 5, 2003