UPDATE

On Tuesday, Aug. 14, 2018, recreational kayakers discovered human remains in and around the Wolf Creek waterway near where 16-year-old autistic teen Jake Wilson went missing.

La Porte City Police Chief Chris Brecher told reporters it could take a couple of weeks to get DNA testing results, but said, "With what we have found, it's consistent (with) what we're looking for," the Register reported on Thursday, Aug. 16, 2018.

As of Aug. 25, the remains had not yet been positively identified, but in a KCRG-TV story that aired Friday, Aug. 24, Jake Wilson's father, Mike Wilson, said [the family is] convinced of the identity of the remains after speaking with investigators, who told them clothing and other evidence recovered from the scene is in line with what they were looking for.

"We're comforted in many ways that it has come to a conclusion," said Bruce Wilson, the teen's grandfather. "Wasn't the conclusion we wanted. He's with God. That's the way I feel."
Previous Case Summary
Jake A. Wilson, a 16-year-old autistic teen, went missing from his La Porte City, Iowa home around 9 p.m. on Saturday, April 7, 2018, after telling his family he was going for a walk to nearby Wolf Creek. A search began less than an hour later when he didn't return home, and he was reported as missing to the La Porte City Police Department.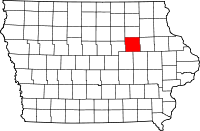 Black Hawk County in Iowa
 

La Porte City in Black Hawk County
His mother, Megan Neiswonger, has said her autistic son has a mild intellectual disorder and functions at the level of a 9-year-old.
Jake was described as a 5-foot-6 white male with blond hair, hazel eyes, and weighing about 135 pounds.
An outgoing nature-lover, Jake left home without his glasses and was dressed in a brown zip-up hooded sweatshirt, dark pants and cowboy boots.
Temperatures were unusually cold for April, and nearby Waterloo set a record low of 12 degrees the morning after Jake disappeared.
Over the weekend, officials cleared a large area of Wolf Creek in their search for Wilson, according to La Porte City police. Machinery was brought in to remove blockages, but no relevant discoveries were found.
His parents have searched endless hours along the creek, handed out dozens of fliers in neighboring towns and have tried to maintain a positive attitude for their three other teenage boys.
"It's just that disappearing factor that is so incredibly nightmarish," said Jake's stepfather, Jeremy Neiswonger, in a Des Moines Register story published April 24, 2018. "We don't know what to do. It's like having the flu: Our stomachs hurt, our hearts ache, we feel sick. And it's just — I don't want to say we're losing hope, because we can't allow that to happen …"
"But," Megan said, finishing his sentence, "we feel hopeless."
Family Remaining hopeful in 'trying times'
The Register also said the family is remaining hopeful in a trying time. The April 24 story reported:
As water crews continued Thursday to search the creek, La Porte City Police Chief Chris Brecher echoed words officials have told the public since April 7: "We can't rule anything out."

Investigators are trying to find that "one golden nugget" of information that will tell them whether Jake was kidnapped or if he was in the creek, he said.

"We'd like to rule something out right now, but we just can't," Brecher said.

Detectives and searchers on the ground are not giving up hope that they will find Jake alive, the chief said.

About 100 agencies on the federal, state and local levels have assisted in the search for Jake, including the Iowa Division of Criminal Investigation, the Federal Bureau of Investigation, local sheriff's departments, fire and police departments, the National Center for Missing and Exploited Children and the American Red Cross.

Brecher has talked with investigators in other parts of the country that specialize in finding missing children and said they have found other teenagers with Jake's intellect within 10 days.

"They said don't give up hope, and we haven't," he said. "Everybody has that little piece of hope that gets them through these trying times."

~ The Des Moines Register, April 24, 2018
The FBI has created a website, www.fbi.gov/laportecityiowa, where people can upload photos or videos taken in La Porte City, Wilson's hometown, on the day he went missing. Authorities say a bicycle ride and a class reunion brought in people from out of town that day.
Black Hawk County Sheriff Tony Thompson stressed that authorities are still treating Jake's disappearance as a missing person case, but they continue to investigate all angles, including the chance Jake was abducted or fell into the creek in the dark.
Latest Updates
On Tuesday, Aug. 14, 2018, recreational kayakers discovered human remains in and around the Wolf Creek waterway near where 16-year-old autistic teen Jake Wilson went missing.
La Porte City Police Chief Chris Brecher told reporters it could take a couple of weeks to get DNA testing results, but said, "With what we have found, it's consistent (with) what we're looking for," the Register reported on Thursday, Aug. 16, 2018.
As of Aug. 25, the remains had not yet been positively identified, but in a KCRG-TV story that aired Friday, Aug. 24, Jake Wilson's father, Mike Wilson, said [the family is] convinced of the identity of the remains after speaking with investigators, who told them clothing and other evidence recovered from the scene is in line with what they were looking for.
"We're comforted in many ways that it has come to a conclusion," said Bruce Wilson, the teen's grandfather. "Wasn't the conclusion we wanted. He's with God. That's the way I feel."
On Wednesday, Aug. 29, 2018, authorities announced that the remains found in Wolf Creek were those of Jake.
Police Chief Chris Brecher disclosed the results of forensic tests by the Iowa Division of Criminal Investigation State Laboratory at an afternoon press conference, the Waterloo Cedar Falls Courier reported Aug. 29, but what still isn't known is how Jake died.
The Courier also reported:
"There is further analysis that is currently in progress, and we hope that these will provide more definitive answers to the questions we all seek," Brecher said.

Sheriff Tony Thompson said those answers may never be known.

"That's a frustration that we are going to have to live with every time we look the family in the eye," Thompson said.
Information Needed
Anyone with information about Jake's disappearance and/or death is asked to contact the Black Hawk County Sheriff's Office at (319) 291-2587 or the La Porte City Police Department at (319) 342-2232.
Read more stories about Jake's disappearance below.
Sources:
"Jake Wilson initiative," Community event bringing safety devices to Black Hawk County, by Amanda Gilbert, KWWL.com, September 6, 2018
"Jake Wilson remembered as smiling, athletic kid at first memorial," By Amie Steffen, WCFCourier.com, September 1, 2018
"Jake Wilson, teen with autism who disappeared months ago, will 'forever be loved,' family says in obituary," By Luke Nozicka, The Des Moines Register, August 29, 2018
"UPDATE: Authorities confirm Jake Wilson's death," by Jeff Reinitz, The WCFCourier.com, August 29, 2018
"After Mollie Tibbetts, others with missing loved ones try to cope with decades of pain," by Mike Kilen, The Des Moines Register, August 28, 2018
"Jake Wilson's father: 'He's not suffering anymore, he's up with God,'" by Forrest Saunders, KCRG.com, Friday, August 24, 2018
"EDITORIAL: Thoughts and prayers for Jake's family," by Jeff Reinitz, The Waterloo Cedar Falls Courier, August 21, 2018
"Human remains found at the creek that was the center of the search for teenager Jake Wilson, investigators say," by Luke Nozicka and Stephen Gruber-Miller, The Des Moines Register, August 16, 2018
"Annual Memorial Ride for Deceased Evansdale Cousins Also Honors Jake Wilson," by Staff Writer, WHOTV.com, July 15, 2018
"Memorial Ride and Drive to highlight other missing, unsolved," by Jeff Reinitz, The Waterloo-Cedar Falls Courier, July 12, 2018
"Jake Wilson search: Authorities hope donations will reimburse excavator volunteering time," by Luke Nozicka and Danielle Gehr, The Des Moines Register, May 9, 2018
"Jake Wilson search: Vigil planned for missing Iowa teenager in La Porte City," by Linh Ta, The Des Moines Register, May 1, 2018
"Thompson: Behind the search for Jake Wilson in La Porte City," by Tony Thompson, Black Hawk County Sheriff, The Mason City Globe Gazette, April 26, 2018
"For Jake Wilson's parents, the nearly 2 weeks since his disappearance have been 'nightmarish'," by Luke Nozicka, The Des Moines Register, April 24, 2018
"Jake Wilson search: Investigators looking at 30-minute window," by Stephen Gruber-Miller, The Des Moines Register, April 16, 2018
"As snow falls, search for autistic teen Jake Wilson continues," by Courtney Crowder and Aimee Breaux, The Des Moines Register, April 16, 2018
"Investigators follow new lead in the disappearance of autistic La Porte City teen Jake Wilson," by Aimee Breaux, The Des Moines Register, April 14, 2018
"Jake Wilson search: 'It feels like a cloud is hanging over the community'," by Mike Kilen, The Des Moines Register, April 13, 2018
"Wilson family releases statement as new technology aides search for missing teen," CBS2/FOX28, Friday, April 13, 2018
"Jake Wilson search: As divers look for autistic teen, mother says 'everybody is wanting him back'," by Luke Nozicka, The Des Moines Register, April 12, 2018
"Where is Jake Wilson? Hundreds search Iowa town for autistic teen missing 3 days," by Linh Ta and Luke Nozicka, The Des Moines Register, April 12, 2018
"Jake Wilson search: Volunteers no longer needed in search for La Porte City teen," by Stephen Gruber-Miller, The Des Moines Register, April 12, 2018
"An Iowa autistic teen is missing. This is why it's a common problem for families," by Kevin Hardy, The Des Moines Register, April 12, 2018